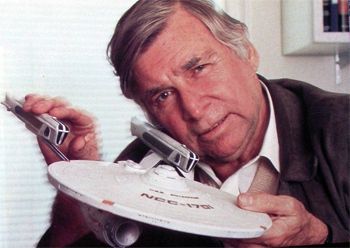 How is it that I, who didn't grow up watching Star Trek, am now a fan of its creator, Gene Roddenberry?
Though he died in 1991, Gene is a new force in the Southern California social enterprise and philanthropic communities through the Roddenberry Foundation.
Established in 2010 by his son, Rod, the Foundation is commited to creating a more inclusive and tolerant world in which human potential is fully tapped to solve seemmingly intractable problems. The Foundation is "committed to andvancing Gene's faith in humanity by finding and supporting remarkable people and organizations who can disrupt existing dynamics, challenge old patterns of thought, and discover new ways to help us move toward a better future."
Take a look at the profiles on this website of the Roddenberry Foundation (under "Funding") and the Roddenberry Prize (under "Prizes"). As you will see through the exciting projects it supports, the Foundation has a fresh, invigorating approach to giving. It values bold ideas that promise to effect real change--whether these ideas come from individuals, nonprofits, social enterprises or businesses. 
Here's hoping that the Roddenberry Foundation is forging a path for more well intentioned but complacent funders to follow.