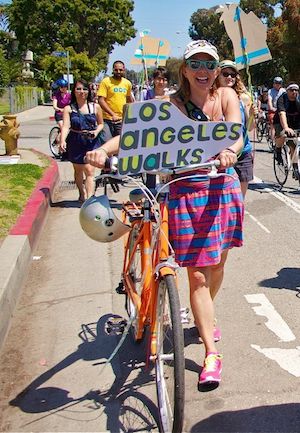 Thanks to the increasing interest in living and working in pedestrian-friendly neighborhoods, Los Angeles ranked number 16 out of 30 cities for its "walkability" in a report issued by SmartGrowth America. Not as high as we might like but better than one might expect. (Actually, LA tied with Columbus, Ohio and Kansas City, Missouri. Washington, D.C., New York and Boston topped the list.)
The revitalization of older downtowns that have Metro stations--like those of Pasadena and Long Beach--have helped to drive this trend, which is spreading to other neighborhoods like Culver City and Silverlake. Some real estate sites are now assessing the walkability of neighborhoods when evaluating houses on the market. 
Check out this Los Angeles Times article by Tim Logan for more. Also, learn more about Los Angeles Walks here. It has been working to make Los Angeles a more pedestrian-friendly city since 1998. Sometimes, effecting positive change takes time and patience!
An historical tidbit: Charles Lummis--journalist, preservationist, crusader for Native American rights, city librarian, and founder of the Southwest Museum--treked 2,200 miles from Cincinnati to Los Angeles on foot to take a job as a journalist with the Los Angeles Times.