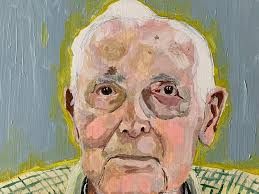 Teens and children can learn a lot from seniors. The reverse is true as well. A win win.
Here is an example:
Deeply touched by the stories of Holocaust survivors she met at LA's Museum of Tolerance, 17-year-Sophia Soll painted their portraits, capturing their humanity with skill and warmth.  Brought me to tears.
Sophia's project, which became an online exhibition Becoming a Witness was featured on "Good Morning America" recently.