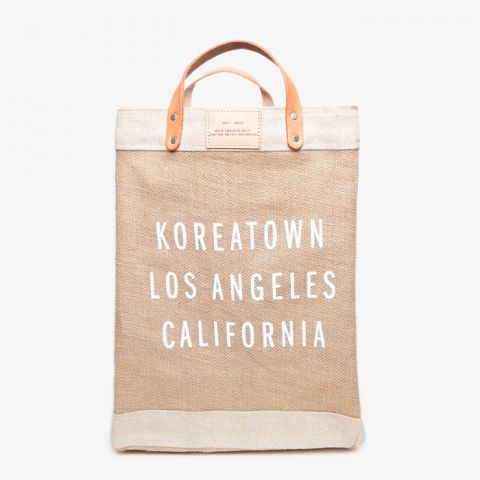 You may have noticed people in various parts of Southern California carrying large, graphically stunning and otherwise cool burlap shopping bags with the names of a city or neighborhood featured in clean, white font on one side and the words "Apolis: Global Citizen" on the other.
My first bag featured the name of my hometown "Los Angeles." Now it is time for a second bag or a third. And there are lots of Southern California (and more) options from which to chose (see list below).
But the most important part of the story is this: It's not just about a cool and functional market bag. Apolis, the creator of the market bag and so much more, has teamed with 100 partners in 10 countries to create market bags for specific communities. 
In so doing, Apolis, its partners and its customers are helping to support the employment of the 21 women in Bangladesh who make the bags.
Visit the Apolis shop and gallery in the Arts District, 806 East 3rd Street, Los Angeles 90013. 855.894.1559
Southern California Neighborhoods and Cities with their Own Market Bags:
Arts District, Los Angeles
Atwater Village, Los Angeles
Beverly Hills
Calamigos, Malibu
Corona del Mar
Hermosa Beach
Koreatown, Los Angeles
Laguna Beach
Leucadia
Los Angeles
Los Olivos
Malibu
Manhattan Beach
Ojai
Newport Beach
Palos Verdes
Pasadena
San Diego
Santa Barbara
Topanga