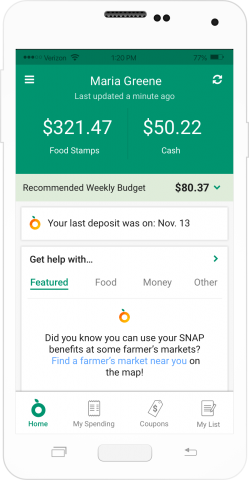 There are apps to order a ride and food and apps to find dates and dog walkers. But what about an app to help the 42 million Americans who rely on food stamps, otherwise known as the Supplemental Nutrition Program (SNAP) to feed their families? Calling an 800 number to check one's balance or maintaining an ongoing tally of purchases are cumbersome and time consuming.
Brooklyn-based Propel, a social enterprise that builds first-class software products for low-income Americans, is addressing this need.
Several years ago, Propel raised venture capital to launch FreshEBT, a phone-based app which allows a SNAP recipient to check their balance, organize their budget around local deals using an online shopping list, find healthy recipes, and locate other useful resources.  
Today, FreshEBT, which is available in every state in the country, has over 1 million users, and counting. It is part of an exciting trend in "civic technology" that is helping to increase the quality of life for those whose needs have been overlooked.
Let's hope that the public sector in Los Angeles catches up to the private sector in developing processes that benefit its residents. According to this 2017 Los Angeles Times article, only 66.3% (1.1 million people) of those who are potentially eligible in Los Angeles County, received SNAP benefits (now called CalFresh in California). Why? A cumbersome and confusing application process, among other problems. Los Angeles County could learn from its counterpart in San Bernardino where 92.7% of qualified residents receive benefits.