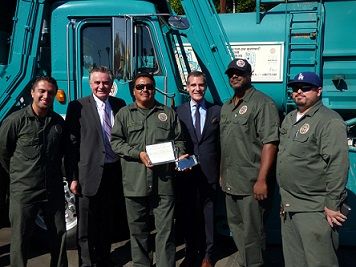 Another reason we are super fortunate that Eric Garcetti is Mayor of Los Angeles:
On November 6, the Mayor announced the creation of a $1 million Innovation Fund to pay for original ideas that city employees and commissioners propose that will improve the efficiencies within city departments and improve the quality of life for Angelenos. The Mayor expects to finance about 10 projects with this initial round of funding.
And three days ago, the Mayor presented members of the Los Angeles Bureau of Sanitation with the city's very first Civic Innovation Award.  The workers replaced paper maps with a smartphone app so they can complete their routes faster and respond more quickly to real-time requests. The new fund will encourage the kind of creativity and innovation that the santitation workers demonstrated.
Check out www.innovate.lacity.org for more details.