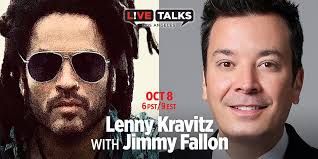 Since 2010, Live Talks Los Angeles has produced hundreds of live events around southern California, featuring prominent and emerging writers, actors, artists, musicians, humorists, chefs, scientists, and, through our Live Talks Business series, thought leaders in business. 
Founded by Ted Habte-Gabr, Live Talks Los Angeles has become a vital part of the cultural life of our city.
Due to COVID-19 restrictions, Live Talks Los Angeles is being offered virtually. So, you can enjoy a range of conversations from the comfort of your home. 
Click here for reservations. 

SEPT 27, 3pm: An Afternoon with R.L. Stine
Goosebumps creator R.L. Stine teams up with the pop-culture phenomenon Garbage Pail Kids for a first-ever GPK illustrated middle-grade series. With 400 million English-language books in print, plus international editions in thirty-two languages, Stine is the author of the third most best-selling series of all time.
SEPT 30, 6pm: An Evening with Patti Smith -- Stories, Reading and Music
discussing her memoir, "Year of the Monkey"
 
OCT 11, 3pm (Sunday): Henry Winkler & Lin Oliver
discussing their book, "Lights, Camera, Danger! (Alien Superstar #2)"
 
OCT 25, 3pm (Sunday):  Bill Nye & Gregory Mone
discussing their book, "Bill Nye's Great Big World of Science"

OCT 5, 6pm: John Mackey, CEO of Whole Foods Market
"Conscious Leadership: Elevating Humanity Through Business"

OCT 8, 6pm: Lenny Kravitz with Jimmy Fallon
discussing his memoir, "Let Love Rule"
 
OCT 17, 6pm: David Byrne and Maira Kalman
discuss their book, "American Utopia" 
OCT 18, 4pm: Governor Andrew Cuomo
"American Crisis: Leadership Lessons from the COVID-19 Pandemic"

OCT 21, 6pm: Matthew McConaughey with John Grisham 
discussing his memoir, "Greenlights"
 
OCT 27, 6pm: Ryan Holiday with Rich Roll
"Lives of the Stoics: The Art of Living from Zeno to Marcus Aurelius"

NOV 1, 3pm: Christopher Kimball: Cooking Demo & Conversation
"Milk Street: Cookish: Throw It Together: Big Flavors. Simple Techniques.
200 Ways to Reinvent Dinner"