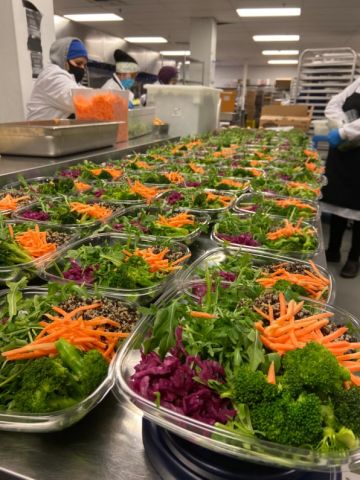 Everytable has emerged as one of the most nimble and effective responders to the coronavirus crisis in Los Angeles.
Four years ago, the Los Angeles social enterprise Everytable opened its first take out cafe in a food desert in South Los Angeles. Its goal was to find a new way to expand access to affordable, healthy food for the city's lowest-income residents. It expanded and opened cafes in other parts of town, some affluent, some struggling. The cafes in the wealthier areas charged more for the same food sold in the lower income areas. It was (and is) a winning model.
When the coronavirus hit, Everytable was well positioned to pivot. 
While it still sells some takeout and delivery meals, the bulk of its business is now emergency relief.
As noted in this Fast Company article by Adele Peters: 
"Nearly 300,000 free meals, funded by government agencies, will go to more than 1,000 homeless residents now sheltered at local hotels. One hundred thousand free meals will be delivered to seniors at home. Another 168,000 meals, paid for by donors and foundations, will go to thousands of foster youth and low-income college students. Over a three-month period, the company expects to provide at least a million emergency relief meals. (For context, that's as many as it sold in total over its first three years of operation.)"
Read the full article to learn how Everytable, under the leadership of its founder, Sam Polk, quickly mobilized to provide healthy food for those in need.