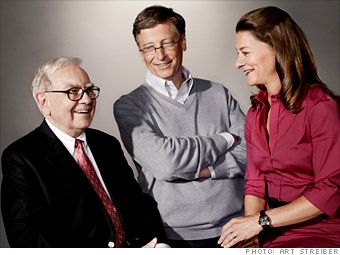 Listening to the CBS Morning News this a.m., Charlie Rose provided a preview of his forthcoming 60 Minutes segment on the "Giving Pledge." Initiated by Bill and Melinda Gates and Warren Buffett, the signatories pledge that they will dedicate the majority of their wealth to philanthropy.
Under "People" on the Do Good LA website, we have provided profiles of most of the signatories from Southern California and will soon post profiles of those remaining.
Twelve of the 115 philanthropists who have signed the pledge live in Southern California or have a business here. They include Nicolas Berggruen, Steve Bing, Eli and Edythe Broad, John Paul De Joria, Barron Hilton, Joan and Irwin Jacobs, Lori and Michael Milken, Alfred Mann, Elon Musk, Henry and Susan Samueli, Jeff Skoll, and Michelle and Patrick Soon-Shiong.
Also, there are signatories who have homes in Southern California although this isn't their principal place of residence, including Larry Ellison, Melinda and Bill Gates and Warren Buffett. I'm guessing that George Lucas, Barry Diller and Diane von Furstenberg, all pledge signatories, have a home away from home here as well.
Of course, there are other extraordinarily philanthropic individuals living in Southern California who have not signed the pledge for their own reasons--Wallis Annenberg, David Geffen, Robert Day and Charles Munger, to name just a few.
Ultimately, the message is that we celebrate the generosity of those mega philanthropists living and working among us in Los Angeles and Southern California who are making our community and the world a better place.