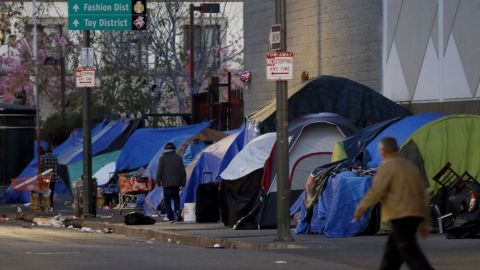 Homelessness in America is a tragedy.
It is a sad reality that Los Angeles has one of the largest unhoused populations in the country. According to NPR, in 2020, homelessness in Los Angeles County increased for the third time in four years. The annual homeless count showed that 66,433 people lived on the streets, in shelters, and in vehicles within the county. Homelessness increased despite hundreds of millions of dollars spent to provide housing to those in need.
The plight of the unhoused has been exacerbated by the COVID pandemic. The risk of exposure to the virus, especially when living in congregate settings, and inadequate health care resources are just two areas of increased risk to unhoused individuals. 
The seeming intractability of eliminating homelessness underscores the need to research and understand the root causes of homelessness in order to devise effective remediative strategies.

Safety.com has published a report that highlights the increased vulnerability for victims and how to support these populations during these unprecedented times. 

It includes:
The demographics and trends in homelessness across the U.S. and the world 
The root causes of homelessness in the 21st century
How we can take steps to end the homelessness crisis and examples of communities that are leading the way
Resources for individuals or families that might find themselves in a homeless situation
The report helps to contextualize homelessness in Los Angeles and remind us that the 66,433 unhoused individuals here deserve our respect and support.